Double Sided Nano Tape 2PCS
ABOUT THE PRODUCT 

Strong Stickiness: This double-sided tape is a magic tape that uses nanotechnology and has strong adhesive strength. The surface of the tape has a load capacity of 1kg, and you can attach items such as pens, office papers, wall hangings, etc.
Washable and Reusable: Can be used many times, and will not leave any residue or glue when removed. When it's dirty, just wash it with water and dry it, then you will get a strong adhesive tape again.
Multiple Purposes: This smart tap can be used for every aspect of your life, such as the kitchen, office, living room, tools, etc. It can be applied to paste photo frames, fix carpet mats, paste cables, etc. You can stick it onto all smooth surfaces.
Easy to Cut: This transparent sticky tape can be simply cut to any size and length you want. It can be stretched, bent, and folded out of shape to meet your needs. Free paste, random removal!
High Tech Material: This double-sided tape is made of Nano-PU gel, Non-Toxic, Recyclable, and Eco-Friendly. It's tough and strong, transparent, washable, reusable, easy to remove, and leaves no traces on the wall or any surface.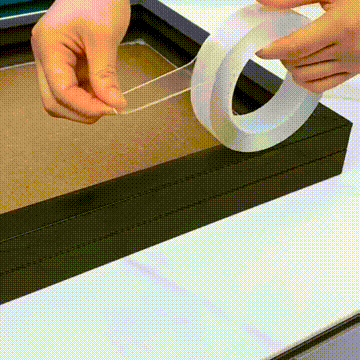 Package Included:

2X Double Sided Nano Tape (1 Piece 3 Meter)
OUR GUARANTEE

You are backed by our total satisfaction guarantee.
If for ANY REASON you don't have a good experience with our product, we'll do whatever it takes to make sure you're totally satisfied with your purchase.
Buying online can be, in many cases, a daunting experience, therefore, we assure you that there will be no risk for you, so you can buy your product and try it, if you don't like it, without any problem, we will solve it.
We have 24/7/365 backup and support, do not hesitate to contact us if you need assistance.



Shipping takes 1 - 2 business days.

Pay cash when receiving the item. 
---
Customers Also Bought