Electric Cat Ball
 𝐀𝐁𝐎𝐔𝐓 𝐓𝐇𝐄 𝐏𝐑𝐎𝐃𝐔𝐂𝐓 
Gravitational intelligent scrolling: It has the functions of bionic motion intelligence sleep and obstacle avoidance; In intelligent mode, you can wake up by tapping. When rolling, you can simulate the escape track of prey. After hitting an obstacle, it can intelligently choose a route to avoid it. The snake shaped irregular movement fully stimulates the cat's agile movement.
Excellent material: The shell of the interactive cat toy is made of environment-friendly high impact resistant ABS material, which is soft, skin friendly and durable. The rolling friction is strong and quiet, it cannot be broken by wall, it cannot be broken by cats, and the playing methods are diverse, so the cat can grasp, bite and lick safely;
Stimulate the cat's hunting desire: The diameter is 1.7 inches, the size that the cat likes, and the mini ultrasonic motor is power saving, quiet, and high vibration frequency to fully stimulate the cat's hunting desire;making fabulously enjoyment.
The light does not hurt the cat's eyes: The LED lights will be on when the ball is operating to attach your cat's attention. Soft light does not hurt the cat's eyes; The color of royal blue and pink is the color that cats like; Chase light and shadow, roll quietly, give the cat a night of curiosity, give you a quiet sleep; Day or night, play if you want;
Simple and convenient charging: Type-C rechargeable design is not only convenient but also environmentally friendly. No need to replace batteries over and over again Faster charging and safer. The new charging mode is faster, more convenient and can play toy anytime.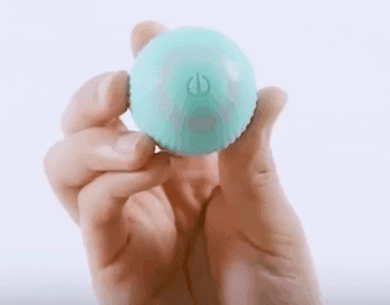 NOTE: Due to the high demand for this product, random colors will be shipped.  
You are backed by our total satisfaction guarantee.
If for ANY REASON you don't have a good experience with our product, we'll do whatever it takes to make sure you're totally satisfied with your purchase.
Buying online can be, in many cases, a daunting experience, therefore, we assure you that there will be no risk for you, so you can buy your product and try it, if you don't like it, without any problem, we will solve it.
We have 24/7/365 backup and support, do not hesitate to contact us if you need assistance.



Shipping takes 1 - 2 business days. 

Pay cash when receiving the item.
---
Customers Also Bought